Alternate Cover Above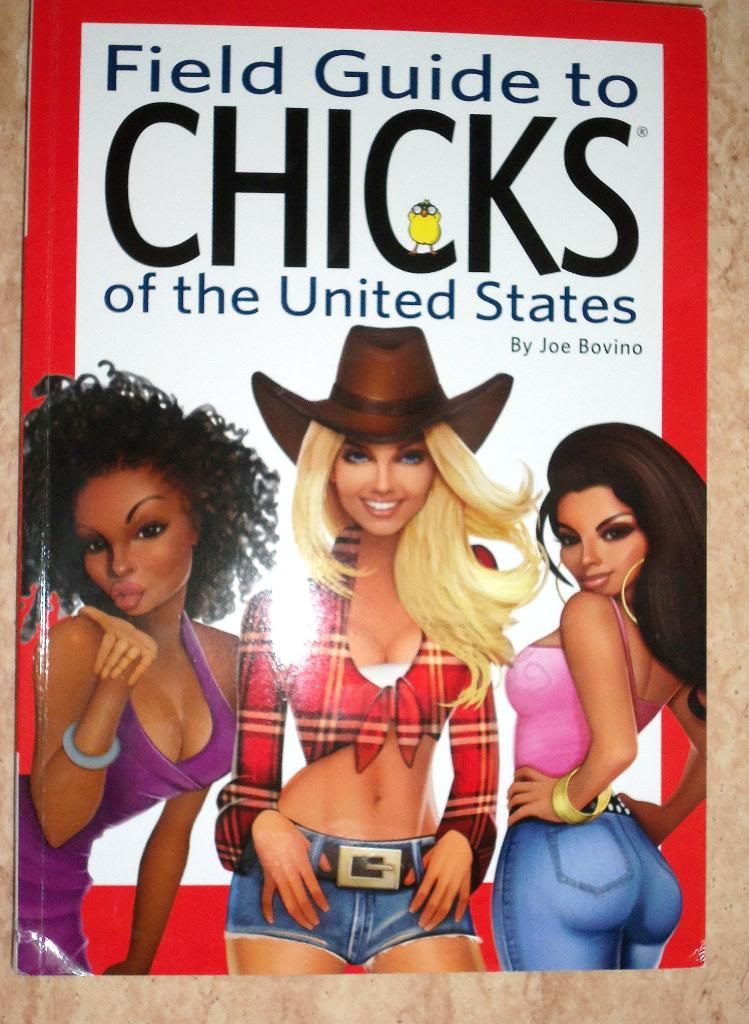 Actual Book
CLICK IMAGES TO ENLARGE & ENABLE READ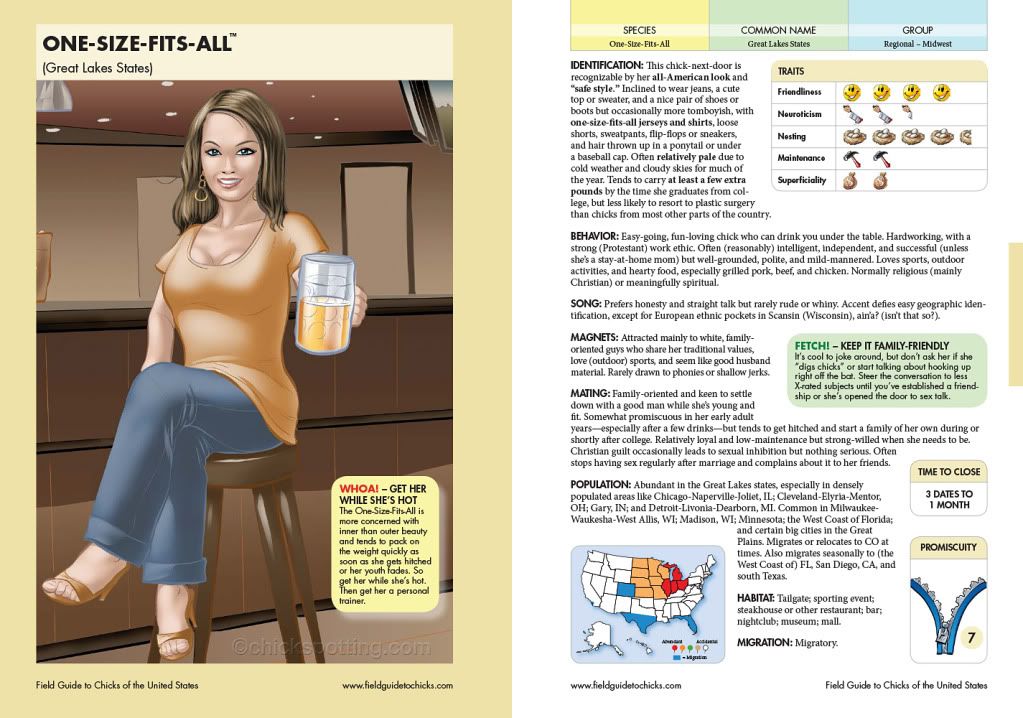 ( CLICK TO ENLARGE)
WARNING:
If you are overly sensitive about your ethnicity, have no sense of humour or work for any women liberation movement then please do not continue to read!
Happy
Monday gorgeous readers! Today's post is not for the faint of heart so if you're easily offended, please don't bother reading this post or leaving rude comments. We are all adults here and this is all in good fun. What am I talking about?
Field Guide To Chicks Of The United States.
The book was written by
Joe Bovino
and
sent to me by publicity
a week ago. It's written as a spoof of sort's on the Field Guide To Birds with specific female types sorted out by their ethnicity and regional home states. I have to say it's the funniest read, from a man's perspective, on the female "types". At first glance I had several cringe worthy moments reading some of the names given to the female types, especially the "Guidette" since I
DO NOT
fit this type at all. I think the author wrote this book with humour and bravery because I can imagine how many of his ex's are going to want to wack him in the head after reading this. But as an adult with a sense of humour, I laughed it off. Besides it's still a free country and if Mr. Bovino were living in Russia he would probably be arrested. Also, now us girls have an idea on the inner workings of the male mind and what they think about certain female behavior. So if you happen to find that you do give off a vibe as such described in one of the profiles, you might want to change or slightly adjust your attitude.
FIELD GUIDE TO CHICKS OF THE UNITED STATES!
What if you had a field guide to women in the United States and by the turn of a page, you could discover how to identify them, what they were attracted to, and how many dates it takes to close the deal. There are thousands of field guides to birds and whole sections of major bookstores devoted to birdspotting, but no one has ever written a field guide to chicks. Until now. Introducing the controversial, often cheeky, yet surprisingly accurate, Field Guide to Chicks of the United States, the definitive chick guide. Chickspotting publishes humor ebook on American chicks. Finding, identifying and understanding women from different regional, ethnic and other American subcultures is tough, especially for those who haven't explored much of the country. It can lead to confusion and unforced errors by guys who collide with cultural barriers, fear doing or saying the wrong thing, or avoid the problem altogether by dating the same type of girl over and over, regardless of the results. Birders can rely on thousands of handy field guides to birds to help them identify different bird species and find their favorites in the wild. Guys aren't so lucky. No one has ever written a field guide to chicks. Until now. Joe Bovino's Field Guide to Chicks of the United States is the definitive chick guide – the ultimate visual resource for American chickspotting. It's outlandishly hilarious, spot-on accurate, provocatively illustrated, and organized like a field guide to birds, with a series of 2-page profiles on women from over 90 regional, ethnic, and other American subcultures (or "species"). The book offers amusing insights into the most distinctive physical characteristics, songs, behaviors, and mating tendencies of American women from different subcultures. It also includes promiscuity rankings, trait charts, range maps, chick magnet guidance, and a vivid, full-color illustration of each chick. Women can use the book to keep an eye on the competition or acquire some valuable inside information. Men develop a greater awareness and appreciation of American women from different subcultures. Tourists get a quick lay of the land, if you will. And, no matter who you are, you can count on this book to spark lively conversations with friends, break the ice with strangers, and get the party started. Joe Bovino is a writer, humorist, lawyer, and P90X pioneer. He currently resides in Los Angeles, CA. The Global Ebook Awards honor and bring attention to the future of book publishing: Ebooks. Now in its second year, the Awards are in 72 specific categories. They are open to all publishers large and small so that a winner is the best in its category not just the best of small or regionally published books. Most ebooks are also available as printed books as well. To celebrate the 50th anniversary of James Bond and the release of box-office hit Skyfall, a special James Bond edition of the book is available just in time for the holidays. The book is a perfect stocking stuffer for the aspiring gentleman and James Bond enthusiast.
AVAILABILITY:
Holiday Ebook Price: $2.99 on
Amazon
; Also available in
paperback
and
hardcover.
Starting on Black Friday, the ebook version will be FREE until Tuesday, November 27th. Chickspotting is also for sale at
Nook
,
iTunes
,
Spencer Gifts
, Kitson (LA), and Misura (in the MGM Grand, Las Vegas). It will soon be available in Barnes & Noble stores and as a smartphone app so you can always have the guide handy when you're out and about in the field! You can sign up for app updates and more at
fieldguidetochicks.com
.