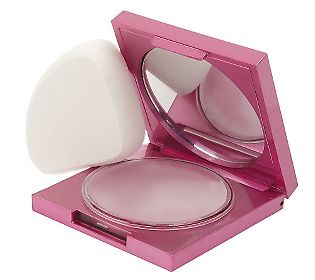 An ingenious little product --

a

no-powder

face powder.

The powder is clear colored and featherweight. It actually goes on like a ultra light gel diffusing the look of pores and fine lines while helping your makeup to set and stay matte fresh.

Mally Evercolor Poreless Face Defender

is a QVC exclusive. A finishing quick fix powder that won't cake on you while having the benefit of being colorless you don't have to worry about layers of color added to your skin when you need to touch up during the day. Included is a unique thick luxurious buffed edge Japanese sponge. Mally is a celebrity makeup artist who is featured on the Rachel Ray Show.
Application Tip:
Swirl it in the product and softly pat the magical formula all over your face. Those awesome little corners are a great way to get into all those hard to reach places such as side of nose and inner corners of your eyes. Yay for technological advances because we all need this little fix up product and let's face it, most powders truly bite on the skin of women if their not under twenty. Even more so in hot humid weather but in the winter as well because powders tend to make your face look ashy if your skin lacks moisture. I really want to try this and I am seeing mixed reviews over at QVC and am wondering is it the product or the manner in which the powder is being applied by the customer or over applying it. Someone complained about this highlighting her facial hair, well duh! wax first honey because everything highlights facial hair, even when you go outside and the sunlight hits your face. Plus if you have damaged skin with heavy set pores this product might not mask all imperfections. The beauty editor over at Lucky Magazine is raving about this so who knows. I'm guessing it's just a great matte diffusing powder that needs to be lightly applied, less is more. I'm on the fence about splurging for this but I will keep you posted if I do and anyone who has tried this feel free to add your two cents in the comment box.